How shares are floated from primary market to secondary market in NEPSE?
A company can become public and get listed in NEPSE (trading exchange) via Initial Public offering. For any new investor, the stock market which include primary and secondary may seem confusing. The following flow charts shows how shares are issued and listed in from primary market to secondary market in Nepalese stock market.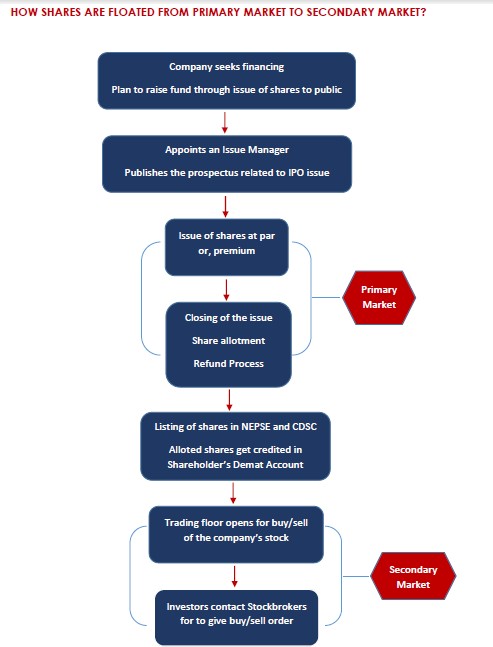 Step 1: A company seeks Equity Financing and decides to raise fund from public.
Step 2: Company signs MOU with a Merchant Banker to appoint them as an Issue Manager for IPO issue.
Step 3: Primary Market: Post SEBON's approval, the company publishes prospectus and/or, provisions related to share issue and after that, the Issue Manager issue shares at par or, premium.
Step 4: After the closing of an issue, share allotment and refund takes place. Later, the issued shares get listed in NEPSE and CDSC.
Step 5: Shares credited in Shareholder's Demat Account
Step 6: Trading floor opens for buying/selling of the company's stock in the Secondary market
Step 7: Investors contact Stockbrokers to buy/sell the share
Comments