Dear All,
NIMB Ace Capital Ltd is one of the leading Investment banks in Nepalese market and it gives me immense pleasure to be leading it. In rapidly changing regulatory market, our company has served the nation and its people by providing exemplary services. As Nepal continues to grow and develop its economy, it is upon us to serve you with various facilities and advanced financial tools.
It gives me immense pleasure to acknowledge that we have been upholding highest standards of corporate governance and will continue to do so. I can assure that our management process, structure and policy allows us to follow the core values; client value creation, stewardship, integrity, and innovation. We work to serve our customers, clients, and communities, thus, we take our core values seriously and commit to do the right thing. Our dedication to this principle has been the key to sustaining public trust and confidence in our company, which is integral to our long-term success.
We assure our shareholders, investors and clients that NIMB Ace Capital will continue to commit and excel through our business strategies and innovations. With our brilliant team of professional expertises, we aim to continue to progress and assist our clients while delivering solid results in this growing economic environment both financially and non-financially.
Come, grow with us! Benefit from us!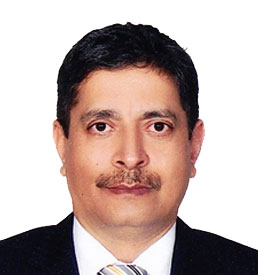 Jyoti Prakash Pandey
Founding Chairman